By default, the background for an enrichment analysis is set to all genes. You can specific your own background set for more relevant results. You have the option to upload your own set or select from lists of genes expressed in specific cell types.
Steps
Note:
A user action, such as click or enter, is italicized.
A visible item on the platform, such as a [link] or a [button], is in square brackets.
A link to another article or external source is underlined.
1. Perform a gene set enrichment analysis by following this article.
2. Click the [Background Set: GENES] button. The [Background set filter] pop-up window opens where the background can be specified. By default, the background set is all human genes.

Option 1: Set a cell type expression profile as background:
3. Click [Genes expressed in specific cell type]. A list of tissue type is available for selection.

4. Click on a tissue type to view the available cell types for that tissue.
Note: There are over 175 cell types to choose from. Be sure to use the scrollbar to move the list up and down to see all cell types.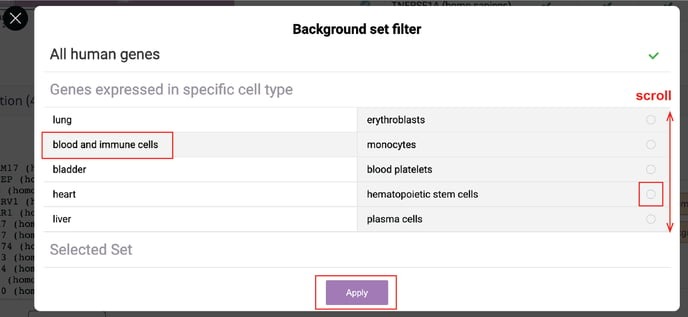 5. Click on the cell type to select its expression profile as the background. The background is now set to genes expressed only in the selected cell type.
6. Click [Apply] to set the background.
Option 2: Set an existing set as background:
7. Click [Select Set] to choose any set previously saved in the [Sets] folder of the platform.

8. Click on a set to select it as a the background.
Note: Click the [downward arrow] above [sort] to sort the list in alphabetical order. Be sure to use the scroll bar to see the all the sets.
9. Click [Apply] to set the background.
10. Once the background is applied, the name of the background set will be shown.
11. Click on one of category buttons to perform the enrichment analysis.
Related Resources