Find potential underlying association in a gene set with the built-in Analytics set enrichment analysis. For example, what are the top most associated pathways, diseases, or phenotypes with a particular gene set?
Steps
Note:
A user action, such as click or enter, is italicized.
A visible item on the platform, such as a [link] or a [button], is in square brackets.
A link to another article or external source is underlined.
1. Create or open an Analytic project. Enrichment analysis works best for gene sets.
2. Select the genes of interest in the [Data Selection] section.
3. Scroll down to the [Method Selection] section.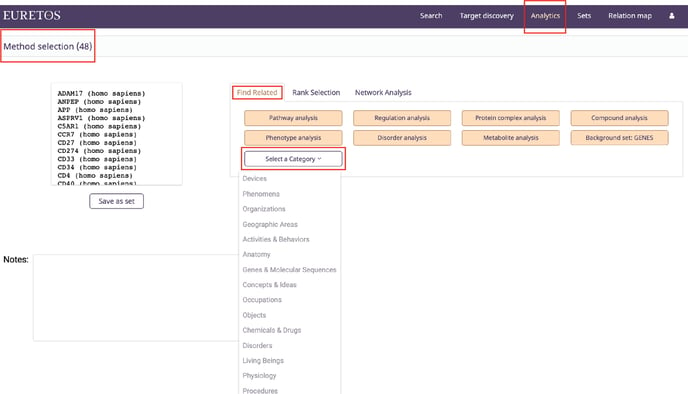 4. Click on the [Find Related] tab to access the categories for the enrichment analysis.
Note: More categories and sub-categories can be found by clicking the [Select a Category] button. Refer to this article for more details on these sub-categories for gene set enrichment.
5. Click a category button to do an enrichment analysis. A table appears showing the results sorted by Fisher's exact test p values from smallest to largest. Refer to this article for more detailed description on how to interpret results from an enrichment analysis.
Click [Pathway Analysis] to find associated pathways
Click [Disorder Analysis] to find associated diseases
Click [Phenotype Analysis] to fine associated phenotypes
6. To drill down on the results, click the number of associated concepts to review the list of genes.

7. A pop-up window appears showing the classification and localization of each gene as well as the number of references that exist for each gene and the selected concept (e.g. apoptosis):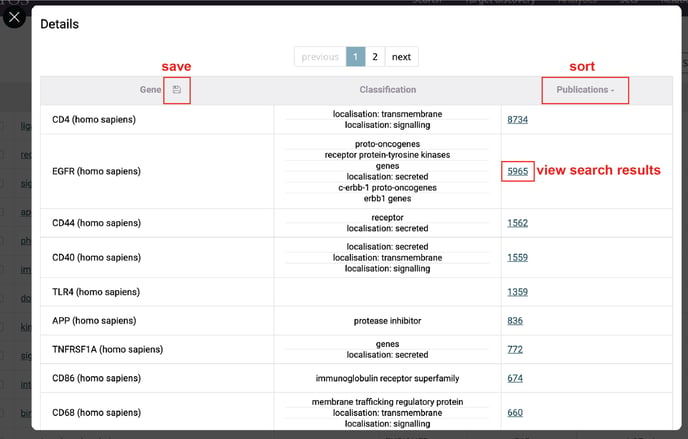 Click

the [save icon] to save the list of genes.

Click the [Publications] column header to sort the genes based on the number of references.

In the [Publications] column,

click

on the number of publications to review all the references. A pop-up window opens showing 10 publications per page.
Click the [Open full search page] link located near the top of the pop-up window to get all the search results. This brings you to Search where you can access all the search results and filter the search results.

Click on the title of the publication to open the publication detail page.
Related Resources